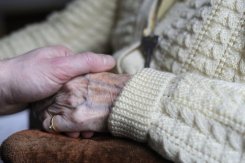 A widely available cancer drug has shown remarkable success in reversing Alzheimer's disease in mice, raising hope of a breakthrough against incurable dementia in humans, US researchers said Thursday.
Mice treated with the drug, known as bexarotene, became rapidly smarter and the plaque in their brains that was causing their Alzheimer's started to disappear within hours, said the research in the journal Science.
"We were shocked and amazed," lead author Gary Landreth of the Department of Neurosciences at Case Western Reserve University School of Medicine in Ohio told AFP.
"Things like this had never, ever been seen before," he said.