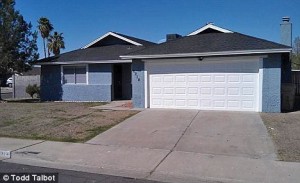 A four-bedroom, two-bathroom Arizona home valued at $125,000 is being auctioned for bids starting at one penny.
Owner Todd Talbot believes that although penny auctions exist for electronic goods, it is the first time a house has been sold in this way.
'It is the first time I'm aware of a home being sold on penny auction,' he told ABC. 'Normally it is for other kinds of products like iPads.'
Talbot, creator and owner of website iBidForAcent.com, describes the 1,749 square foot property as a completely remodelled, 'turn-key' home, just waiting for the winning bidder to move in.
He bought the home for $80,000 in January and invested $20,000 in redeveloping it.
The refurbished home features a wood-burning fireplace, a newly-fitted kitchen with granite worktops and fresh carpets.
Bidders can only bid in one cent increments, and, with less than 20 hours to go, the highest bid so far is $2.37.