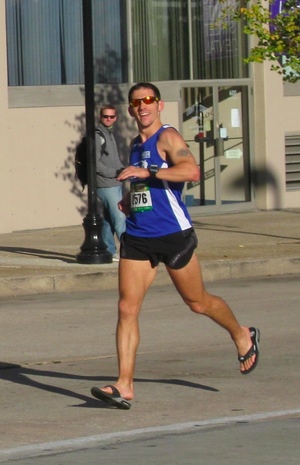 Runners searching for the perfect pair of sneakers may want to try and run in something different — flip flops.
Keith Levasseur ran the Baltimore Marathon on Saturday in 2:46:58 and did all 26 miles in flip flops.
"I had every intention of sticking to the race plan of finishing a little under 3:00, so my initial pace starting gout as 6:40-6:50," Levasseur told Runner's World. "After a few miles, I decided I go with whatever pace I could comfortably run, even if it was faster than my target pace. I know there are some decent hills later in the race and I didn't know how I would be doing from a time perspective at that point, so I gave myself some wiggle room by letting go on the downhills and cruising in the 6:00s."
Levasseur was the 29th person to finish the race out of 3,024 runners. He said others noticed his footwear.