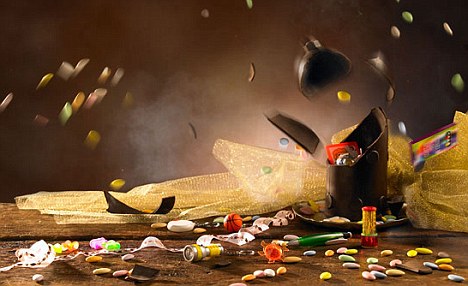 For an explosive finale to your Christmas banquet, this season's must-have luxury centrepiece has to be the exploding Braquier Chocolate Bomb from The Conran Shop.
Made from velvety dark chocolate (with 70 per cent cocoa), this 22cm-high shell will certainly steal the spotlight at the dinner table, blowing Nigella's cutesy Rocky Road pudding out of the water — and that's even before you've taken a match to it.
For this is one sweet treat that'll take no prisoners in the battle of the desserts, as once the bomb detonates (30 seconds after lighting the wick) prepare to scarper at least one metre away, or be rained on by hundreds of choccie shards, mini gadgets and sugared almond shrapnel.